Portable Water Filters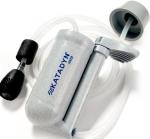 I used the Katadyn Hiker portable water filter for about 8 years (it's actually a PUR Hiker but Katadyn is now the label). It was used for weekend trips and longer backpacking treks. It has gone through the Boundary Waters of Minnesota, Bighorn Mountains of Wyoming, Philmont Scout Ranch in New Mexico, and other less exciting places in between. I've been happy with it and it has held up well. These aren't highly polluted areas, but are typically hiking and camping locations.
I also have an MSR MiniWorks that has done well - see below for details.
But, as far as I'm concerned, the Sawyer filters are currently King of the Filters.
When you choose your camping water filter keep these things in mind:
Replacement Life - how many liters can be filtered before a new replacement cartridge is needed?
Speed - how many liters per minute can it process?
Field Service - can you repair the unit or is it sealed and needs to be completely replaced?
Repair Kit - does it come with the filter or purchased for additional cost? Does it include common parts?
Instructions - can you understand the written directions and are they thorough and simple?
Case - does the filter include a carrying case that will protect it?
Sawyer Squeeze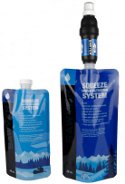 $50
The Squeeze has no serviceable (or breakable) parts. Squeezing the dirty water bag creates pressure that forces clean water through the 0.1 micron absolute pore-size hollow fiber membrane. It can also be hung and used as a gravity feed filter.
Backflushing in the field is simple - just force a little filtered water backward through the filter with the supplied syringe, a faucet, or your collapsible, clean water bottle.
This filter has revolutionized wilderness water treatment. It is inexpensive, simple, lightweight, and doesn't wear out. The only concern, as with all manual filters, is allowing the inside to freeze and possibly rupture.
Sawyer Mini

$20
The Mini is a smaller version of the Squeeze and can be optionally attached inline to a camel back full of dirty water. Just suck clean water through it. Or, suck water right out of a dirty water source. It can also be used as gravity-fed or with squeezable dirty water bags, provided.
Katadyn Hiker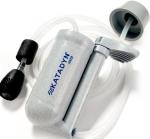 $60 - replacement cartridge: $35
Katadyn's highest rated portable water microfilter. The Hiker is good for backpacking and eliminates Giardia, Cryptosporidium, and bacteria. It's easy to use and guaranteed not to clog for 1 year. It includes attachments to directly fill Nalgene bottles and hydration packs. It has a high stroke output and is fairly lightweight.
The Hiker PRO ($70) is the same filter but the element has been wrapped with a protective membrane that helps prevent clogs. This element fits the Hiker too. The PRO also includes a maintenance kit with o-rings, lubricant, and cleanable filter protector. The extra $10 is worth it.
Katadyn Pocket Filter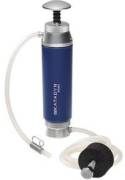 $200 - replacement cartridge: $140
An extremely durable water filter in a sturdy aluminum shell. The ceramic element will treat up to 13,000 gallons. That is more than most other manual filters you'll find and one reason why the price is so steep. It has a 0.2 micron pore size and a flow rate of 1 liter/minute so it will give you ample water clear of all harmful bacteria and protozoa (giardia, cryptosporidium, and friends). It weighs 20 ounces which is heavy for backpacking, but Red Cross field workers have been issued it for extended stays. It includes a long input hose, lubricant, hydration pack adaptor, and clip to attach output hose to your bottle lip - a small thing, but nice.
I'd love to have one of these for group camps because, with proper care, I could pump 10 gallons a day every day for 3.5 years before needing a new element. But, for the camping and backpacking I do, I can buy almost a dozen Sawyer Minis instead.
Katadyn Guide

$80 - replacement element: $35
Uses a 130 micron pre-filter on the hose inlet and then a 50 micron pre-filter membrane to trap larger particles and keep the filter from clogging. Uses anti-clog pleated filter cartridges with a carbon core and a 200 gallon life. Weighs 14 oz. and delivers 1 liter/minute in 36 strokes. There is no servicing this filter, just replace the fiber cartridge. The base can be unscrewed and attached directly to a Nalgene for no-spill filling.
Katadyn Combi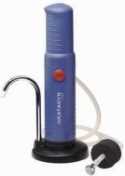 $140 - replacement filter: $75, carbon element: $9
Uses a field-cleanable ceramic filter cartridge with a replaceable carbon element. The cartridge has a 13000 gallon life and the carbon element 60 gallon life. You can use it without the carbon if there is no taste or odor problem with the water. Weighs 21 oz. and delivers 1 liter/minute. Fits directly onto Nalgene and other water bottles.




Katadyn Micro Water Bottle

$30
A new type of personal portable water filter system is very popular now. A sports water bottle with a built-in filter - pretty cool! Easy to carry and simple to use, just take off the lid, dip it in the water, put on the lid, suck or squeeze out the water.
For an individual hiking or exercising, its great. For use as a camp filter to get cooking water, it's not efficient to open and close the lid over and over to get a pot of water.
MSR Miniworks EX

$80 - maintenance kit: $10, element: $38
Uses a ceramic element with a carbon core. Weighs 16 oz. and its 1 liter/minute throughput and 2000 liter cartridge life make it an option for camping and backpacking crews. It is field servicable and the maintenance kit is a good investment.
I've used a MiniWorks on lots of camping trips. I like the pump action and the clear plastic that lets you see the pistons moving water.
MSR Waterworks EX

$140 - maintenance kit: $10, element: $38
Uses a ceramic element with a carbon core and has 2nd stage membrane for extra filtering. Weighs 19 oz. so its a bit heavy but its 1 liter/minute throughput and 2000 liter cartridge life make it a possible choice for backpacking in small groups. It is field servicable like the MiniWorks.


MSR Sweetwater

$60 - element: $35
Uses a 0.2 micron labyrinth depth cartridge with a carbon coating. Weighs 11 oz. and delivers 1.25 liters/minute by pumping on both up and down strokes.
I've not used one of these so I shouldn't say I get the impression that its cheap, so I won't.




This table shows filters and purifiers. Go to the Water Purifiers for more purifier information.
Maker
Model
Wgt
(oz)
Flow
(qpm)
Price
Extra
Cost
per
gal*
Filter life
(gal)

Water filters

: eliminate protozoa and bacteria
Sawyer
Squeeze
3.5
1.8
$50
.005¢
1M
Sawyer
Mini
2.0
1.4
$20
.008¢
250K
Katadyn
Mini ceramic
6.7
0.6
$79
$44
2¢
2,000
Katadyn
Pocket Filter
16.6
1.0
$179
$155
1¢
13,000

Water filters + activated carbon

: eliminate protozoa, bacteria, bad taste
Katadyn
Hiker
8.3
1.0
$56
$30
15¢
200
Katadyn
Guide
10
1.0
$80
$39
20¢
200

Water filters + activated carbon

: eliminate protozoa, bacteria, bad taste, organic chemicals
General Ecology
Microlite
7.0
0.5
$38
$17
$1.40
12.5
MSR
SweetWater
7.2
1.3
$60
$35
18¢
200
MSR
MiniWorks EX
12.6
1.0
$80
$38
8¢
500
MSR
WaterWorks EX
15
1.0
$140
$38
$50
8¢
25¢
500
Katadyn
Combi Filter
21.5
1.2
$145
$69
$9
.5¢
7.5¢
13,000
120

Water purifiers

: eliminate protozoa, bacteria, viruses
Sawyer
Point Zero Two
20
.25
$150
0.015¢
1M

Water filters + purifiers + "structured matrix"

: eliminate protozoa/bacteria, bad taste, organic chemials, viruses
General Ecology
First Need Deluxe
13.3
1.8
$93
$36
29¢
125
General Ecology
Base Camp
64.8
high
$557
$75
15¢
500

Water filters + activated carbon + purifiers

: eliminate protozoa, bacteria, bad taste, viruses
Katadyn
Exstream
7.4
1.0
$42
$30
$1.15
26
Katadyn
Exstream XR
7.4
1.0
$45
$30
$1.15
26
MSR
Sweetwater
9.9
1.3
$75
$35
$8
18¢
10¢
200
80

Pumpless purifiers

: inactivates protozoa, bacteria, viruses
MSR
MIOX
3.5
n/a
$130
$17
battery costs
n/a
Hydro Photon
SteriPEN
8
n/a
$150
n/a
15¢
1250
*Cost per gallon = replacement filter cost divided by gallons per filter
---
Ask a Question